The Bowflex T10 and the T22 are both solid treadmills that have similar specs. The T22 is the higher-end model with a 22-inch screen, more incline angle, more user programs, and a stronger motor.
Here we list their specs side by side, so by comparing them against each other like this, you should be able to decide which one is more suitable for you.
Bowflex

T10

Bowflex

T22
Here we list all available specs side by side so you can see which one of these treadmills would be a suitable choice for you.
Bowflex T10

vs

Bowflex T22

Specs Table
Max User Weight Capacity

?

The maximum user weight that the treadmill can handle.

400 LBS

400 LBS

Motor Power

?

How strong is the motor? We recommend at least a 2.25 HP motor for home use.

3.0 CHP

4.0 CHP

Maximum Speed

?

Maximum speeds in miles per hour.

12 MPH
12 MPH
Incline
0 to 15 %
0 to 20 %
Decline
0 to -5 %
0 to -5 %
Folding
Running Area (Belt Size)
22″ X 60″
22″ X 60″
Number of Programs
13
16
Heart Rate Monitor
Pulse Grip
Pulse Grip
Wireless Heart Rate Monitor
Bluetooth Heart Rate Band (included)
Bluetooth Heart Rate Band (included)
Cooling Fan
Bluetooth
Display
Height Adjustable 10″ Full-Color Touch-Screen Display
Height Adjustable 22″ Full-Color Touch-Screen Display
Web Browser
Touchscreen
Audio
iFit Coach Compatible
Tablet holder
Warranty
Frame: 15 years, Motor: 15 years, Mechanical 5 Years, Electronics: 1 year, Labor: 2 Years
Frame: 15 years, Motor: 15 years, Mechanical 5 Years, Electronics: 1 year, Labor: 2 Years
See Price at Amazon
See Price at Amazon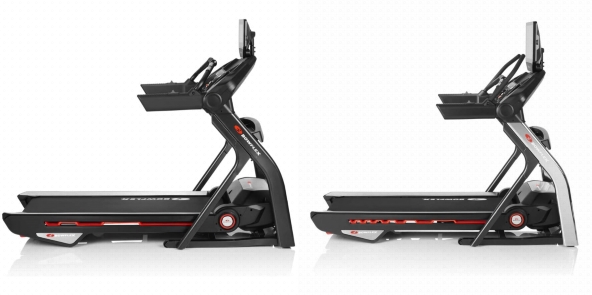 Display and User Interface Comparison
Both models have height-adjustable full-color touch screens. The Bowflex T22 has a larger 22-inch display compared to the T10's 10-inch screen.
What Customers Think About Bowflex T10
Customers generally seem to have a positive view of the Bowflex T10 treadmill. They appreciate its sturdy build and heavy-duty materials, making it suitable for users with higher body weight. The treadmill is considered to have good value for its price range and a powerful, quiet motor. Additionally, customers enjoy the free year of JRNY membership, which provides interactive features and enhances the overall workout experience.
However, some customers have noted a few drawbacks. The assembly process could be easier, and the user interface takes time to get used to. The machine is quite heavy and has a large footprint, which can make it difficult to move and install. Some customers recommend purchasing setup service for added convenience. Lastly, the touchscreen could be more user-friendly, and better peripherals like speakers would have been appreciated.
Despite these minor issues, customers seem to be satisfied with the Bowflex T10 treadmill overall, especially when considering its features and capabilities.
What Customers Think About Bowflex T22
People generally have a positive opinion about the Bowflex T22 treadmill. They highly recommend it as one of the best in the market and appreciate its many features, such as the variety of options, the JRNY plan, and the Explore the World feature. Users also like that it offers individual profiles, streaming services, and a generous warranty. Many have praised the T22 for its comfortable and smooth running experience, the ability to accommodate different strides, and its gentle impact on joints.
Customers have mentioned the excellent customer care from Bowflex and the ease of assembling the treadmill, even by a single person. However, some did note that unpacking and moving the unit can be challenging due to its weight. The connectivity, audio quality, and startup are all considered good, with users highlighting the usefulness of Bluetooth syncing and USB ports for charging devices. The armband heart monitor is effective, but some users would like more detailed information about their heart rate during workouts.
The only minor complaints include a weak fan and the treadmill not folding completely upright for storage. Despite its size, users have managed to fit the T22 into their homes and enjoy using it daily. Overall, the Bowflex T22 treadmill is highly regarded by users for its numerous features, comfort, and convenience.