We compare the XMark Adjustable Dumbbell vs Bowflex SelectTech 560 Dumbbells side by side in depth, here is the comparison table.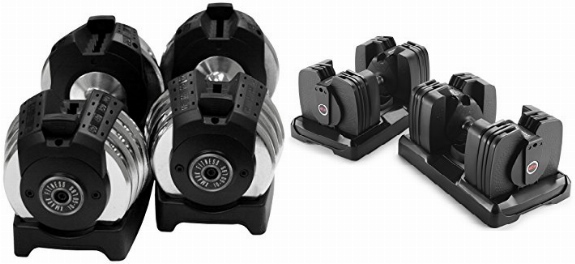 | | |
| --- | --- |
| XMark Adjustable Dumbbell | Bowflex SelectTech 560 Dumbbells |
| | |
Spec Comparison of XMark Adjustable Dumbbell and Bowflex SelectTech 560 Dumbbells
Our rating:
Our rating:
Weight Changing System
Adjustment Knob
Turning the Grip with Digital Readout
Brand
XMark
Bowflex
Minimum Weight(Each Dumbbell)

10 lbs

5 lbs

Maximum Weight(Each Dumbbell)

50 lbs

60 lbs

Increments
10 lbs
2.5 lbs up to the first 25 lbs, than 5 lbs increments
Material
Chrome plated steel
Metal
Handles
Chrome plated steel
Rubber-coated
Storage Tray
Additional Notes
There is two different models, 25 lb-Pair and 50 lb-Pair. With 25 lb-Pair you can increment the weight by 5 lbs.
This is a smart dumbbell that has a sensor and Bluetooth connectivity to count reps, calories and keeping track of your lifted weights.
A Youtube Video About XMark Adjustable Dumbbell
A Video About Bowflex SelectTech 560 Dumbbells