Here are the detailed specifications for Weslo Cadence R 5.2 Treadmill.
Weslo Cadence R 5.2 Treadmill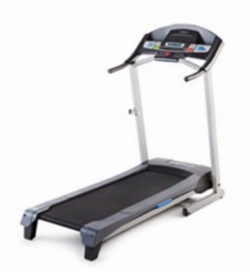 Our rating:

Type
Running
Motor Power
?
How strong is the motor? We recommend at least a 2.25 HP motor for home use.
2.5 HP
Speed Range
?
Minimum and maximum speeds in miles per hour.
0 – 10 MPH
Maximum User Weight
?
The maximum user weight that the treadmill can handle.
250 lbs
Belt Size
?
This is the running area, most treadmills for home use have a 55″x20″ running surface.
16″ W x 50″ L
Heart Rate Monitor
?
You can track and record your heart rate, and some treadmills have heart rate programs which adjust workouts according to your heart rate.
Folding
?
Folding makes storing and moving the treadmill easy.
Incline
Maximum Incline Angle
?
Some treadmills can incline up to %15.
2-Position Manual Incline
Features
2.5 CHP drive system
16 X 50 Walking Belt
Comfort cell cushion deck
2 position adjustable incline
Space saver design
Pros
Good price
Motor is powerful, but short motor warranty make us think there can be some problems with this motor
Warranty
90 days for parts, labor, and motor
Unfolded Dimensions
55.5″ x 29″ x 64.5″
Weight
117 lbs.
Manufacturer URL
Link

A Youtube Video About Weslo Cadence R 5.2 Treadmill